Generally an element in many general oral care plans, fluoride is a naturally occurring mineral found in select foods and liquids. As a bonus, fluoride can also be onto the enamel to offer numerous dental benefits. Fluoride may fight off tooth decay by the enamel less susceptible to tartar. Fluoride will also strengthen the tooth's structure to reduce the first signs of decay. Cities that put fluoride in their water sources typically notice decreased instances of cavities among their residents. These advantages of fluoride are pointed out by the () and other important associations. At DentalWorks - Hyperlingo, we are pleased to offer professional fluoride services for adults and children of all age groups. To hear more about how fluoride could benefit your family's oral wellness, contact us for an appointment with Dr. Dentist Two in City, ST.
Ideal Candidates for Fluoride Treatments
Kids, young adults, and men and women could all be great candidates for painted-on fluoride treatments. Fluoride can help ward off cavities in younger patients with developing teeth or men and women who are more prone to decay. City, ST people who do not consume fluoridated water could also benefit from regular services. can provide fluoride treatments for individuals who are at a higher chance for cavities, like adolescents or adults who have metal braces or have (). Fluoride treatments can additionally serve to decrease tooth tenderness and shield bare enamel, which is more prone to decay.
What to Expect With Fluoride Treatments
DentalWorks - Hyperlingo has a mix of fluoride options and varieties to these treatments enjoyable for everyone. Fluoride treatments are commonly recommended twice-yearly right after a thorough cleaning and annual dental exam. As soon as your fluoride flavor is selected, our staff will prep the treatment as either a varnish, foam, gel, or liquid. It will be kept on the teeth for 1 – 4 minutes, based on the type, to give the treatment time to absorb into your enamel. To attain the best possible benefits from your treatment, you may have to wait no less than 30 minutes prior to snacking or drinking beverages.
Fluoride Treatment Aftercare
Illness may develop in the event that an amount of fluoride is mistakenly ingested; however this will ebb away about one day after your appointment. With some situations, may prescribe fluoride supplements or medical-grade fluoridated toothpaste to raise your fluoride intake. Since fluoride could be hazardous in large amounts, guardians need to be sure to keep fluoride toothpastes and rinses off limits to babies and toddlers. Though these services help to safeguard from damage, it remains necessary to polish the teeth using fluoridated products daily. We also encourage you to receive regular dental assessments and thorough cleanings at DentalWorks - Hyperlingo so can reassess your overall dental health.
Insurance Coverage for Fluoride Treatments
Regular fluoride applications may be covered by your dental insurance provider. Our facility's payment team can look over your insurance plan to help you maximize your policy. If you have any extra expenses, our team can go over the numerous payment methods accepted at DentalWorks - Hyperlingo or help you apply for medical payment plans.
FAQs About Fluoride Treatment
1. What is fluoride?
Fluoride is a mineral found in the bones and teeth that helps to strengthen enamel. It is used in supplements, toothpaste, mouth rinses, and dental fluoride treatments to improve oral health.
2. What happens during a fluoride treatment?
After a dental exam and routine dental cleaning, the teeth are dried fully to avoid diluting the strength of the fluoride. The treatment is administered by gel, foam, or paint-on varnish that is left on the teeth for a few minutes. Once the treatment is complete, you must be careful to spit out all of the fluoride from the mouth.
3. How often can you have fluoride treatment?
A fluoride treatment is usually given every six months after a dental cleaning and exam. However, it can be recommended more often if a patient has weakened enamel or is prone to cavities.
4. Are there side effects if fluoride is consumed?
While fluoride is naturally-occurring, when consumed in large amounts, it can cause serious health conditions. Dental fluorosis occurs when you consume too much fluoride while your teeth are still forming underneath the gums. This can result in white spots on the tooth's surface. This condition usually affects children under the age of 8 who are the most likely to swallow toothpaste.
5. How long should I wait to eat after a fluoride treatment?
To allow the fluoride to penetrate the enamel, you should not eat, drink, or smoke for at least a half-hour after a fluoride treatment.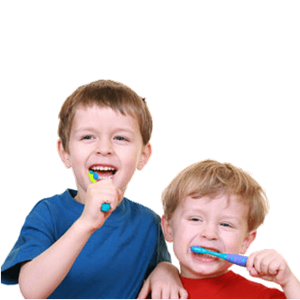 Fight Tooth Decay WIth Fluoride
Improve the state of your teeth when you schedule professional fluoride treatments at DentalWorks - Hyperlingo. suggests fluoride treatments for kids, teens, and adults to improve the teeth, shield from cavities, and reduce beginning signs of erosion. Contact our facility in City, ST to schedule a biannual cleaning paired with a fluoride treatment or to learn more about this recommended oral care treatment.
Related Procedures
Related Posts