Individualized dentures are an efficient approach for replacing lost teeth. These helpful pieces can make it more comfortable to speak and eat with confidence and can renew the look of your mouth following tooth loss. Dr. Dentist Two offers full and partial removable and implant-held dentures for individuals in City, ST. Single-arch dentures take the place of every one of the teeth in the top arch, bottom arch, or both; however, partial dentures are employed if a number of the patient's teeth are still intact in the jawbone. At DentalWorks - Hyperlingo, our team can help you learn whether detachable or implant-supported dentures are right for your needs and have them carefully crafted for a pleasant look and easy fit. Call us for your restoration assessment with soon.
Adapting to your specific requirements is vital to us, which is why our City, ST facility offers a number of personalized denture options for tooth replacement:
Detachable bridge-style dentures take the place of empty areas left behind by one or several missing teeth. They are held in place by conveniently clasping around close by teeth.
Removable complete dentures take the place of an entire or arch and are held in place by the natural contour of the jawbone or an oral paste.
Implant-held dentures fill in for multiple or a whole arch of teeth. These restorations attach to dental implants in the jaw for higher reliability.
Immediate complete dentures are used right after the existing teeth are removed. The comfort of these pieces could be altered as the gum tissues recover.
Traditional full dentures are positioned in cases where teeth are already missing and the oral cavity is totally healed.
Are You a Candidate for Dentures?
Great candidates for having dentures are any individuals who have lost multiple teeth or are going to have teeth extracted. Dentures work to restore your dental capabilities, let you consume healthy foods, and help maintain the shape of your face. These restorations work most effectively when the gumline is in good condition and there is an adequate amount of bone mass for support. At your appointment with, they will assess your mouth and talk about your potential treatments depending on your requirements, cosmetic preferences, and wallet. Using this information, our professionals will be able to help you figure out if dentures are best for your dental health and kind will effectively suit your unique circumstances.
What Is the Denture Process?
Our team will kick off the process by making digital or molded impressions of the upper and lower arches. These impressions are then relayed to a highly advanced dental lab that will create your customized dentures. Complete and partial dentures are made up of lightweight resin, which is often reinforced by a metal inner structure. Made of medical-grade materials, dentures copy the appearance of native teeth and the gumline. When your dentures are crafted and are sent to DentalWorks - Hyperlingo, we will ask you to return for a fitting consultation. will modify your restorations so they are comfortable or fasten them to already positioned oral implants. Our staff will also go over the appropriate techniques to clean your new dentures.
Caring for Your Tooth Replacement
Returning to your normal functions, like eating and speaking easily, might require up to a month, but they will become easier over time. If your dentures seem to be shifting around, please reach out to DentalWorks - Hyperlingo so we can schedule a refitting follow-up. You can look after your dentures by cleaning them with a gentle brush following each meal and soaking them in water nightly to stop them from becoming too dry. We urge you to visit our office for regular assessments so can check the state of your tooth replacements and your overall dental health for several years to come.
Are Dentures Covered by Insurance?
Removable or fixed dentures could be covered in part by a lot of insurance plans. Our facility will call your insurance company to determine your exact coverage; when this happens, we will add up any potential expenses. At your visit with, they will cater your treatment program so your dentures suit both your requirements and wallet. To help the denture process even more accessible, DentalWorks - Hyperlingo accepts several kinds of payments, including flexible financing.
1. What are dentures made of?
Dentures are made of a hard resin, which makes them durable. Dentures are generally more fragile than natural teeth and can chip and crack, which makes it important to care for them properly. The support that holds the teeth in place is also made of a resin material or a flexible polymer material that is custom-made to fit snugly around the natural gum line. A new set of dentures is usually needed about every five years.
2. What are some benefits of wearing dentures?
Dentures can improve the appearance of your smile and help maintain the structure of your mouth. This makes it easier to talk and chew naturally. Dentures are a great solution for patients looking to replace teeth that may be causing oral health issues.
3. How are dentures applied?
First, the patient's mouth is prepared with a routine cleaning, the filing of natural teeth, or even with tooth extractions. This process will vary from patient to patient. After the mouth is ready, digital x-rays are taken, which are sent to a dental lab to create the custom dentures. Temporary dentures are worn until your permanent restoration is ready. Adjustments are made to create a more comfortable and secure fit.
4. Will I have to change my diet when I have dentures?
Generally, you will be able to eat normally, however, it may take time to get used to eating comfortably with dentures. Denture adhesive can help to stabilize your dentures so they stay in place while you're going through the adjustment period.
5. How do I clean my dentures?
You should clean your dentures daily much like your natural teeth. This is because bacteria, plaque, and tartar can build on them leading to diminished oral health. To clean them, remove your dentures from your mouth and run clean water over them. This rinses off any leftover food particles. Next, brush them with a denture cleaner or mild soap and a denture brush. Never use regular toothpaste as it is too abrasive, which can lead to needing to replace your dentures sooner than the usual five-year time period. Always rinse them well after cleaning.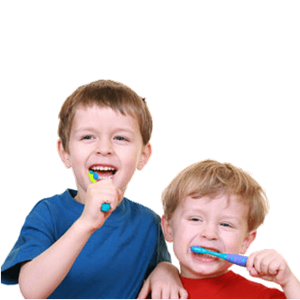 Replace Missing Teeth With Custom Dentures
Restore your confidence to chew, converse with different people, and smile freely after tooth loss when you get a full or partial tooth replacement solution. is thrilled to provide full mouth or partial removable and implant-held dentures to people in City, ST. To learn more on the ways dentures could revive your smile, set up an appointment at DentalWorks - Hyperlingo.
Related Procedures
Related Posts