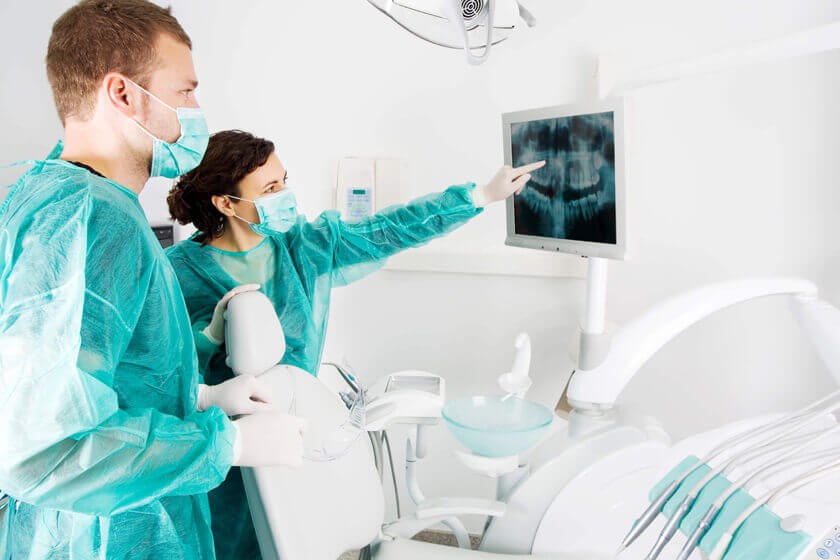 WHY DO WE HAVE THIRD MOLARS (WISDOM TEETH)?
The first people did not have modern luxuries like kitchens, grocery stores, or forks and knives, therefore they had to eat what they had, even though it may be raw or tough. A diet like this made the delayed arrival of the third molars really helpful, which fit well in their broader jawbone. Today, humans have changed to have a thinner jaw; however, we still grow third molars, which aren't needed and typically won't fit. More often called the wisdom teeth, these final molars usually have to be extracted to prevent issues, such as pain, infection, and impaction. Our seasoned staff at DentalWorks - Polaris performs surgical tooth extraction for Columbus, OH patients both young and old. Employing advanced diagnostic tools, our team helps patients decide whether they need their wisdom teeth removed, which our team performs with modern techniques so you have a quicker recovery. Keep reading to find out more about extracting your wisdom teeth before you get in touch with our practice in Columbus, OH to schedule an appointment for you or your children.
AT WHAT AGE TO THE THIRD MOLARS ERUPT?
Your wisdom teeth are the last to grow, typically when you are all about seven years of age. Although, the third molars do not really erupt until you are about 15 – 22 years old. In contrast, the remainder of your adult (permanent) teeth begin to appear when a child is in first grade and are completely visible by age 13. Though it is infrequent, some people do not have all four of their third molars, and very rarely, a couple of lucky individuals never get any of their wisdom teeth.
IS IT NECESSARY TO HAVE MY WISDOM TEETH EXTRACTED?
Considering that the modern person's jawbone is smaller and our daily diet is not as tough on our other molars, there's usually insufficient space for your wisdom teeth when they're prepared to erupt from your gums. Typically, when the third molars aren't removed by a dentist, then they could become impacted. When a tooth is impacted, it is not able to fully erupt out of the gumline so that it might result in an infection called pericoronitis. Indicators of an impacted tooth are swollen gums near the third molar, discomfort in your ear or nearby teeth, difficulty opening your mouth and chewing, in addition to chronic halitosis (bad breath). Even though the majority of folks need to have their third molars extracted to avoid an impaction or infection, a few people can keep their third molars. The choice to keep or extract your third molars ought to be made together with your dental team.
DO MY WISDOM TEETH NEED TO BE REMOVED RIGHT AWAY?
If possible, those who need it, should have their third molars extracted before they're 20 years old. The longer you wait, the third molars roots get stronger and therefore are more challenging to extract. Although not everybody will have to have their third molars pulled, should you, it is advisable to get it done once you are young. The extraction process is harder and the recovery generally takes more time in adults. Ideally, you're seeing your dentist in Columbus, OH for yearly oral health assessments with x-rays so that they can track the growth of your wisdom teeth and plan an extraction when it's a good time. If you aren't seeing a dentist twice a year, schedule a consultation if your teeth have been moving, you've got swelling and pain near your back teeth, or a sense of pressure in your jawbone. These are symptoms that your third molars are about to erupt and your dental team will have the ability to ascertain whether they ought to be extracted to avoid an infection or impaction.
WHAT HAPPENS WHEN MY WISDOM TEETH ARE EXTRACTED?
Your third molars can be taken out using an extraction process when the teeth haven't completely erupted out of the gums. During your initial consultation, your dental team will talk about your sedation choices according to your surgery and anxiety level. Many people will be given IV (intravenous) sedation so they're unconscious throughout the procedure, although others might be given a mix of local anesthesia and "laughing" gas or even oral-conscious medicine. No matter which method of sedation is chosen, your dentist will be certain you're relaxed and comfortable before the surgery starts. To get to the teeth, the dentist will create an incision in your gum tissue over your wisdom tooth. The molar will be extracted with specific tools and the gums will be sterilized before the dentist closes the incision with stitches. This will be repeated until all the wisdom teeth have been extracted.
WHAT SHOULD I EXPECT AFTER MY WISDOM TOOTH EXTRACTION?
In your first appointment, your dental team will tell you exactly what to expect during and following your surgical extraction. It is crucial to comprehend and comply with your aftercare directions to prevent problems such as a dry socket or infection. Based on the kind of sedation used, you will likely have to have a responsible adult take you home after your procedure. You should aim to rest for the remainder of the day; however, a couple of days is generally suggested. Many patients choose to stick to a liquid or soft food diet following their surgical dental extraction. It is advised to not use a straw, chew or smoke tobacco, or spit to prevent pulling the blood clot loose that develops in the gums. You need to wash out|] your mouth for 1 – 2 days until you return to softly brushing. Your dentist can write you a prescription for pain relievers or antibiotics that will assist you heal after extraction. In a couple of days, your teeth and gums will feel and look far better, so get in touch with your dentist if you've got a fever, pain, inflammation, pus, or other issues.
IS IT POSSIBLE FOR WISDOM TEETH TO GROW BACK?
As soon as your third molars have been extracted, they won't re-grow. Nonetheless, in a really small fraction of people, there's another set of molars that may appear. Also called supernumerary teeth, such additional teeth grow in approximately 1 – 2 percent of individuals. Should you have additional teeth, your dentist will have the ability to spot these with x-rays in your yearly oral health evaluation. Based upon the location of the additional teeth grow, your dentist will suggest a simple or surgical extraction.