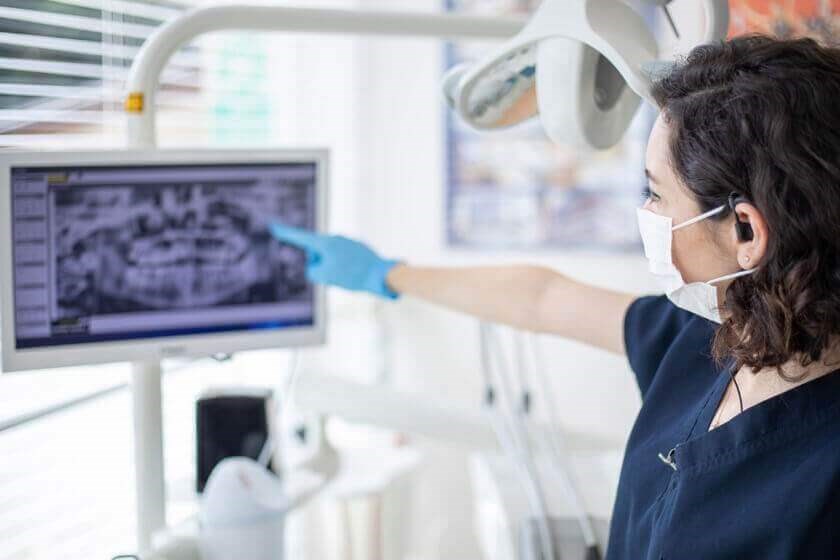 ALL ABOUT THE PURPOSE OF DENTAL IMPLANTS
On occasion, our patients may be uncertain about the function of dental implants (often referred to as implant-supported restorations). In the event that your dental practitioner recommends that a dental implant is your ideal choice for restoring an extremely decayed tooth, you might ask yourself what dental implants do and how they will enhance your oral function. Implant-supported restorations serve as a lasting remedy for lost teeth. Dental implants can be an exceptional alternative to other restorative dental treatments (for example, removable dentures) and feature several benefits that may make them an effective option for many people in Columbus, OH. The compassionate group of knowledgeable oral health care professionals at DentalWorks - Polaris utilizes dental implants to assist people who have lost one or many teeth. These implants do much more than elevate our patients' oral function; patients are so pleased with how dental implants offer natural-looking outcomes and restore their smile.
HOW IMPLANT-SUPPORTED DENTURES ARE PLACED
Until recently, if patients required extractions of one or perhaps a few teeth, the only ways to restore them were removable dental bridges or removable dentures. Though these will bring back the look and utility of your teeth, conventional dentures and dental bridges both need more maintenance and will probably become uncomfortable because of bone atrophy in the jaw and gums. This bone atrophy is caused by the loss of the tooth root, which also atrophies when it loses its tooth. An implant-supported restoration consists of a metal post secured into the gums and jaw to serve as the tooth's natural root. When the metal post has healed into the bone, a tailor-made implement referred to as a gum abutment will be added to the post. This enables your oral surgeon in Columbus, OH to substitute the lost tooth or teeth using your individually designed, implant-supported tooth restoration. Your dentist or periodontist may also restore multiple teeth using an implant-supported dental bridge or partial dentures. Those who choose to get all of their teeth restored can be fitted with a complete arch of teeth using implant-supported dentures. Unlike other types of restorations, implant-supported dentures can be maintained just like normal teeth, so patients won't have need to worry about food limitations and/or specific cleaning instructions.
SOME GREAT BENEFITS OF CHOOSING DENTAL IMPLANTS
Patients may still select a standard dental bridge or removable dentures, but they might not give you the optimal outcome over time. There are a great deal of benefits to going with dental implants, for example:
DURATION
Implant-supported restorations will last for quite a while. Provided that you practice your oral hygiene and visit your dental practitioner in Columbus, OH for yearly evaluations and cleanings, your dental implant could last for several years. At your yearly comprehensive dental evaluation, your dentist should check on the condition and comfort of your dental implant to find out whether it has to be refitted, modified, or exchanged with a new one.
MUCH LESS IMPACT ON ABUTTING TEETH
Implant-supported restorations work much like your real teeth. Patients don't need to be concerned about them damaging neighboring teeth. Other oral restorations often need the adjacent teeth to be altered; however, this is not true for readying the mouth for implant-supported restorations. Patients can rest easy knowing that the nearby teeth will stay strong and complete.
QUALITY
DentalWorks - Polaris offers dental restorations (for example, crowns, bridges, or dentures) that are tailor made out of extremely durable materials. The post anchored into the jawbone will be composed from titanium, a metal that will not deteriorate. Dental implants will let you eat any foods you want without needing to be concerned about harming your restoration.
THEY LOOK LIKE NATURAL TEETH
Among the largest worries that people have on the subject of a dental restoration is whether the outcome will look natural. One wonderful aspect of dental implants is that they match the tone and size of your existing teeth when they are crafted out of medical-grade materials by experienced professionals in a dental laboratory. The outcomes will be so seamless that your loved ones and co-workers won't know which ones are your actual teeth and which ones are dental implants (if you don't choose to tell them).
EXPENSE
The expense of implant-supported restorations might strike you as less reasonable in contrast to other choices, like bridges or dentures, but they are typically less costly in the long term. Quite often, bridges or dentures have to be altered and/or replaced; therefore, the costs can accumulate quickly. And don't forget the price of denture adhesives (for loose-fitting dentures) and tablets for nightly cleaning. Dental implants are produced from a high-quality material and constructed to last quite a while.
NO CHAFING
Whereas other common restorations (for example, crowns, bridges, and removable dentures) generally begin to feel loose with time, an experienced dentist will make certain that the implanted post is completely integrated before he or she will connect your specially designed restoration. The post requires several months to heal into your jawbone and gums; however, after it does, it creates an excellent base for your attached restoration. In the even that you do notice any fit issues, set up a visit with your dentist in Columbus, OH to get your dental implant modified.
NO EXTRA CLEANING STEPS
Distinct from other dental restoration] alternatives (for instance, removable dentures), dental implants are cared for and cleaned exactly like your real teeth. Dental implants don't have to be soaked at night, and you'll never have to put on messy denture adhesives when you put them in. Patients don't have to stick to any particular cleaning regimen for the restoration. You should keep brushing and flossing at least twice day in order to extend the viability of the dental restoration. Although the special materials used to create your restoration are more impervious to staining than your real enamel, they could still become stained, so always brush your teeth after consuming staining foods and beverages, such as colas, teas, and tomato sauce.
A BOOSTED SENSE OF SELF-ESTEEM
Anyone's confidence and self-esteem might suffer if he or she suspected others might be judging them due to their missing teeth. Implant-supported restorations can help you make these worries to be problems of the past. You will probably find yourself grinning more, laughing more openly, and eating out with friends without hesitation when you've become accustomed to your dental implant.
WHERE DO I SET UP AN APPOINTMENT?
If implanted restorations seem like something you would be interested in knowing more about, feel free to contact our staff at DentalWorks - Polaris to set up your appointment. Our practice in Columbus, OH has the training required to change your smile into something that you will be excited to share with everyone. Our staff will help you through the steps and make your personalized treatment program to attain your most beautiful smile. You'll feel free to have meals, socialize, and talk with much greater confidence once the restorations revitalize your smile. Call us today to find out why our patients in Columbus, OH can't stop grinning after an appointment at our practice.