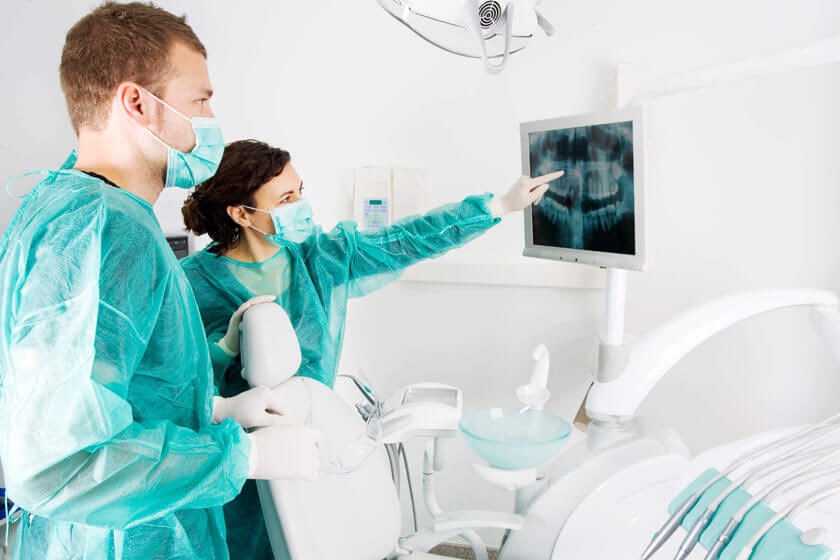 I WOULD SOONER HAVE A ROOT CANAL…
Do you remember the last time you heard or used the expression, "I would rather have a root canal?" Thought of as something unpleasant and painful, root canals have developed a bad reputation through time. While a root canal isn't a procedure you would ever want, but contemporary methods and innovative tools together with sedation methods make root canal treatment considerably faster and simpler. If you are skipping appointments at your dentist despite the fact that you've got severe toothaches or symptoms of a problem such as fear of being told you have to get a root canal, then you may have to find out more about the contemporary root canal so that you feel comfortable calling a dentist's office in Columbus, OH to schedule a consultation. Our group at DentalWorks - Polaris knows you could be feeling uncomfortable about the prospect of getting a root canal. It's our top aim to help you feel comfortable with the treatment method so we are able to deal with your toothache and improve your dental wellbeing. If you believe you might require a root canal, then read on to discover answers to the questions that you might not know about root canals.
WHO NEEDS ROOT CANAL THERAPY?
One path to root canal therapy begins with a normal cavity. The decay in the outside part of a tooth is simply treated using a filling. But in case you are not visiting the dentist twice a year or you also postponed care, the tooth decay may grow out of the enamel into the inside section of the tooth. In the event the pulp within your tooth becomes infected, then you'll require a root canal to clean it all out. Even though you might not be happy with the notion of having a root canal, but this effective treatment can save your tooth. If you don't get the appropriate treatment, the disease could become an abscessed tooth or get into your other teeth, gums, jaw, and blood, which might need a tooth extraction along with other remedies. In the long run, a root canal is far simpler and more affordable than needing to get the tooth pulled or a full-body infection.
HOW DO I KNOW IF I MAY NEED ROOT CANAL THERAPY?
As soon as the infection gets into the soft inner area of the tooth, you might see that your tooth is extremely sensitive to temperatures, therefore it's difficult to sip hot beverages or enjoy ice cream. Other signs are a persistent ache or pain in the tooth, inflamed gums near the tooth, and the tooth may change colors. When you observe any of these symptoms, then you need to visit your dentist immediately for a dental health evaluation. Your dentist may utilize x-rays along with other diagnostic instruments to find out whether the tooth is infected as well as the magnitude of your problem. As soon as you are diagnosed, your team will talk about your treatment program, which might incorporate an extraction or root canal.
WHAT HAPPENS DURING A ROOT CANAL?
Once local anesthesia is applied to numb the area near the impacted tooth alongside any other necessary kind of sedation, so your dentist may start your root canal procedure. The decay will be taken out of the tooth then a tiny hole is created to permit entry to the interior part of the tooth. The contaminated pulp will be eliminated and then the tooth will be washed out and disinfected to prepare it for a dental material will be used to seal and fill tooth. Typically, a crown is going to be placed on top of the tooth for protection and strength. At DentalWorks - Polaris, we offer custom crowns that blend into the color and shape of your other teeth so that your smile appears natural.
WHAT IS THE RECOVERY LIKE FOLLOWING MY ROOT CANAL THERAPY?
Right following your procedure, your mouth will likely feel tender and inflamed, and that means you ought to plan to go home for the rest of the day. The dentist might write you a prescription for pain medication or antibiotics to assist through your recovery. It is crucial that you return to your dental hygiene regimen immediately to help keep your smile bright and prevent another infection, but you will need to floss and brush gently near the treated tooth for a couple of days. For meals, you might choose to stick with liquids (such as smoothies and protein shakes) or soft foods (eggs, oatmeal, avocados, and bananas) at a moderate temperature for your first couple of days following your root canal treatment. Stay away from sticky and hard foods such as taffy, chewing gum, and ice because these may harm or pull the crown off. Keep seeing your dentist in Columbus, OH two or more times every year for cleanings and dental wellness examinations so your dentist can evaluate the state of your teeth following a root canal and also ascertain whether the crown has to be replaced or repaired.
WHAT HAPPENS IF THE INFECTION COMES BACK?
If it is correctly done, a root canal ought to be effective at taking away the disease and conserving the tooth. Using good oral hygiene, you should get to use the tooth for quite a while. But a crack or other things can cause a second infection in the tooth. If this occurs, another root canal (also called an endodontic retreatment) could be required. That is the reason why it is crucial that you adhere to all directions from the dentist following your root canal so that your tooth heals correctly. You also need to keep scheduling appointments at least twice a year so your dental team can assess for oral health issues.
I'M AFRAID OF THE DENTIST. CAN YOU HELP?
If you don't get a root canal, an infected tooth will get rather painful. In case you are trapped between a painful toothache and the anxiety that you have of visiting the dentist (dentophobia) to do it, we've got great news — you don't need to be in pain or grapple with dental issues thanks to sedation. DentalWorks - Polaris provides several kinds and degrees of sedation to be certain to stay calm throughout your root canal treatment. Oral-conscious medication or nitrous oxide gas could be mixed with intravenous (IV) sedation according to your treatment and individual needs. And after your root canal is finished, inquire about adding sedation with your routine appointments. Our team works with Columbus, OH sufferers to make it much easier for them to return for twice-yearly cleanings and yearly oral health assessments so issues may be addressed or avoided before they need a longer treatment.
IT'S JUST A LITTLE ROOT CANAL THERAPY
Although you might not be happy to get a root canal, but it could help your smile to receive one. In case you have signs of an infected tooth, then schedule a dental health evaluation with your dental practitioner in Columbus, OH. In case you've got dental anxiety or fears, DentalWorks - Polaris provides several kinds of sedation to help keep you relaxed and calm throughout your exam and root canal treatment. We utilize advanced equipment and innovative methods when doing root canal therapy to take out the disease, save the tooth, and keep your smile beautiful and healthy.